SUCELLOG Newsletter - Issue 5

SUCELLOG Newsletter - Issue 5
November 2016

Dear reader,

This issue of the SUCELLOG newsletter informs about opportunities to benefit from international training sessions provided to agro-industries in upcoming months and general expert advisory services provided free of charge through SUCELLOG project. It also informs about two recent project publications which are valuable information sources for feasibility assessments of agro-industries interested in starting new activities as biomass logistic centres. At the end of this newsletter you will find information about up-coming events with participation of SUCELLOG project.

The SUCELLOG project

The goal of SUCELLOG - Triggering the creation of biomass logistic centres by the agro-industry - is to boost the creation of biomass logistic centres inside the agro-industries as a complement to their usual activity, promoting a new business line for diversification with low investment.

SUCELLOG concept is based on the exploitation of the important synergies that agro-industries have to become solid biomass producers. Activities are developed at national and regional scale in Spain, France, Italy and Austria. Further information about the project is available under

www.sucellog.eu

.
SUCELLOG offers FREE trainings and advisory services
SUCELLOG project is offering direct training and advisory services, which are available free of charge for agro-industries all over the Europe. Agro-industries in Austria, France, Italy and Spain have been supported in several training sessions and workshops, since these are direct target countries of the SUCELLOG project. However, now SUCELLOG offers training as well to agro-industries located in other European countries. More information is provided in the following chapters.
International training course for agro-industries in Europe

SUCELLOG offers a 3-days training course where the experience and knowledge gained through the project will be spread in a practical way. It is specially focused to build up skills in agrarian associations of EU countries who are willing to offer support to their members in these aspects.

The course is FREE of charge and will take place in the headquarters of the association to be trained. The course will focus on the techno-economic possibilities of agro-industries to become biomass logistics centres based on agrarian resources and will address the following topics:
Basic concepts about solid biomass (agrarian vs forestry resources)

How to assess agrarian biomass resources?

Requirements of quality in the solid biomass market

Synergies between agro-industries and biomass production centres

How to make a feasibility study of an agro-industry willing to become a biomass logistic centre?

Business models built from real cases in Spain, France, Italy and Austria

Opportunities and barriers found during the project
Nevertheless, contents of the training are flexible and will be adapted according to the needs of trainee.

The course will be provided by CIRCE (Research Centre on Energy Resources and Consumption). CIRCE is an institution based in Spain with large experience in education at all levels (masters, professional courses and tailor-made trainings for companies), being part of the European Association of Renewable Energy Research Centres.
If you are interested in SUCELLOG free-of-charge training opportunities, please contact us
HERE!
or write us through

[email protected]
SUCELLOG advisory services

Agro-industries can benefit from advisory services provided free-of-charge within the SUCELLOG project. Our experts are ready to support agro-industries in evaluation of their possibilities to become a biomass logistic centre. Advisory services cover assistance in:
Evaluation of the most interesting raw materials for the logistic centre in terms of quantity, quality and price;

Assessment of the situation of the biomass market in the region, identification of competitive products and calculation of selling prices of the solid biomass produced by the agro-industry logistic centre;

Evaluation of the equipment needed for the new business line and the compatibility with the existing one;Assessment of the overall feasibility (technical and economical) of the new business line.
SUCELLOG publications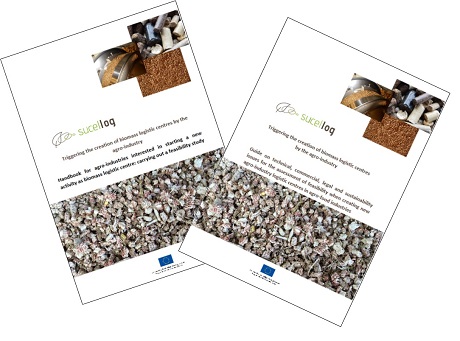 Recently two new reports have been published on SUCELLOG project website. Both publications were developed to help agro-industries in the preparation of feasibility studies, which are aimed to assessing the technical and economic aspects of potential establishment of biomass logistics centre within the agro-industry.

More information about both publications is provided in the following sections.

Handbook: Carrying out a feasibility study
'Handbook for agro-industries interested in starting a new activity as biomass logistic centre: Carrying out a feasibility study' is already the second handbook published by SUCELLOG project. First handbook published in 2015 provided a set of basic information for agro-industries which are interested to extend their usual operations with biomass processing and handling for solid biofuels production. The second handbook provides already step-by-step assistance in preparation of detailed feasibility study.

The handbook gives useful tips for the assessment of availability of biomass resources and potential of the local bioenergy market. Besides that, it describes various technical, social and economic aspects to be considered when evaluating the feasibility of the new business concept. Download the second SUCELLOG handbook HERE.
Guide on technical, commercial, legal and sustainability issues
'Guide on technical, commercial, legal and sustainability issues for the assessment of feasibility when creating new agro-industry logistic centres in agro-food industries' has been developed as complementary information to both SUCELLOG handbooks. This document contains templates, checklists, tables and other practical information to support the assessment of availability of biomass resources, identification of solid biofuel market segments to be targeted, evaluation of existing facilities, and assessment of technical and economic feasibility, and environmental sustainability of the new activity.

Some of the contents are: a list of manufacturers of combustion equipment able to work with agro-fuels, legal aspects to bear in mind when establishing a contract with a biomass supplier, list of prices for equipment to produce solid biomass, and emissions limits for biomass combustion in Europe. Download the guide HERE.
Upcoming events
SUCELLOG final workshop in Brussels, Belgium, February 2017

3 days international training-course to agrarian associations in Europe (express your interest in participation HERE)
SUCELLOG Partners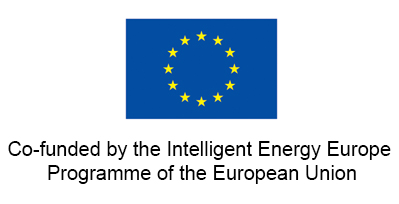 The SUCELLOG project is co-funded by the European Commission, contract N°: IEE/13/638/SI2.675535. The sole responsibility of this publication lies with the author. The European Union is not responsible for any use that may be made of the information contained therein.